well come my artworld
cell: +88 01712092878. email: artistbiplobkor@gmail.com
About My Work
Basically in the present condition, I have tried to symbolize the distinction among good and evil of Technology and also the differences between human beings and machines. In the 20th century men have discovered themselves as a machine.
Machine is made by man, but contemporarily man is totally depending on machines, because machines solve some problems and it takes some place of human beings. That's why some times man is devoted by himself to the machines like a Robot.
The major theme of my art work is binary oppositions between man and machine.
Biplob Kor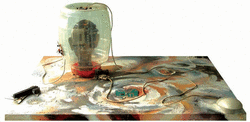 Clone 2 (Perspective Viw), Mixed Media on Bord, 36''X25''X11''
http://www.thedailystar.net/2007/04/07/d704071403106.htm
http://www.facebook.com/home.php?#!/album.php?aid=65980&id=1408465415
http://www.facebook.com/home.php?#!/album.php?aid=22691&id=1408465415